ALMiG COMBI Model SC22-8 Packaged 4 in 1 Rotary Screw Air Compressor – 22 kW 500L 8/5-13 bar 43-110CFM / 1217-3115LPM
ALMiG COMBI Model SC22-8 Packaged 4 in 1 Rotary Screw Air Compressor – 22 kW 500L 8/5-13 bar 43-110CFM / 1217-3115LPM air stations can reduce your electricity costs up to 35% by automatically varying their output to match the fluctuating air demand of most applications. These compact, quiet and energy-efficient compressed air systems are supplied ready-to-run.
Description
ALMiG COMBI Model SC22-8 Packaged 4 in 1 Rotary Screw Air Compressor – 22 kW 500L 8/5-13 bar 43-110CFM / 1217-3115LPM are a highly cost-effective 4-in-1 solution: The compressed air station combines
a compressor,
compressed air receiver (with manual shut-off, and also with an automatic condensate drain as an option),
refrigeration dryer and
pre- and after-filters in one housing as standard.
The series thus fulfils the high quality requirements for compressed air for pneumatic applications specified by DIN ISO 8573-1.
Requiring the smallest possible space and emitting very low noise levels, the machines of the COMBI series can be installed exactly where the compressed air is needed, saving your company major investments in expensive pressure lines. The belt-driven systems of the COMBI series are used in applications ranging from practical trades to heavy-duty industry.
In small-scale workshops, the compressors guarantee a reliable supply of compressed air while, in industry, the COMBI products serve as an individual decentralized compressed air solution.
ALMiG COMBI SC22-8
| | |
| --- | --- |
| Motor Power | 22 kW (30 hp) |
| Free Air Delivery | 1.21-3.09 m³/min (1217-3115LPM) (43-110 CFM) |
| Working Pressure | 8 bar (116 psi) |
| Pressure Range | 5-13 bar (73-189 psi) |
| Tank Volume | 500 Litres |
| Air Treatment | Dryer, Pre- & Post-Filters |
| Noise Level | 66 – 71 dB(A) |
| Warranty | 5 Years (conditions apply) |
Decades of experience and excellent performance
ALMiG is one of the leading compressed air technology system providers and has decades of experience de- livering premium products in the compressed air sector. Companies all around the world trust in our customer focused solutions, our quality, innovation and flexibility. Our advanced compressor technologies combine ex- cellence with the quietest possible running performance, optimal energy efficiency and particularly careful conservation of resources.
Ongoing development and comprehensive industry knowledge
Constant research and development form the essential foundation for the efficiency of every system manu- factured by ALMiG. Only these constant enhancements and improvements enable us to react quickly and flexibly to individual customer wishes. This attitude is complemented by a comprehensive understanding of the sector: we understand the challenges that our customers are faced with and the requirements that arise as a consequence. ALMiG offers effective solutions for a wide range of applications – from small craft workshops to medium-sized companies to big industry.
Complete service and maximum availability
The highest quality technological solutions deserve an equally high level of service. The ALMiG service pro- visions offer our customers a complete service programme: from providing comprehensive advice to ensuring availability, improving cost-effectiveness and developing energy-saving potential. As an expert partner, ALMiG offers its customers advice and support on all issues. Our goal is to contribute to your economic success with our service offerings.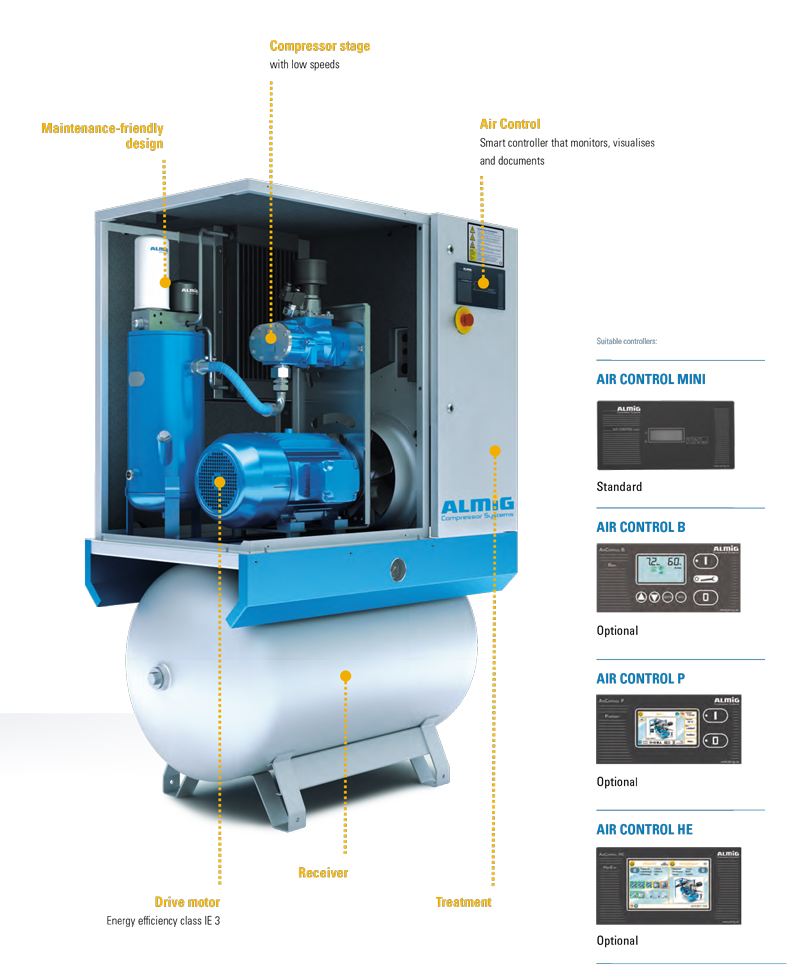 Electric Screw Compressor
Rotary Screw Compressor
Industrial Air Compressor
air compressor rotary screw
diesel screw air compressor
electric air compressor for sale
electric air compressor pump
electric air compressors
electric compressed air
electric compressor
electric compressors for sale
electric start compressor
electric start petrol compressor
portable electric air compressor
rotary screw air compressor
rotary screw air compressor oil
rotary screw air compressor price
screw air compressor for sale australia
screw compressor australia
screw compressors for sale
Additional information
Additional information
| | |
| --- | --- |
| Weight | 519 kg |
| Dimensions | 1480 × 780 × 1375 cm |
Reviews