Bomar 290.258 DGA CNC Automatic Double Mitre Cutting Bandsaw Fully Automatic Bandsaw
$

69,500.00 Excl. GST
$

76,450.00 Incl. GST
$

69,500.00 Excl. GST
$

76,450.00 Incl. GST
Bomar 290.258 DGA CNC Automatic Double Mitre Cutting Bandsaw Fully Automatic Bandsaw
Bomar 290.258 DGA CNC Automatic Double Mitre Cutting Bandsaw Fully Automatic Bandsaw
You may also like
$

17,500.00 Excl. GST

$

19,250.00 Incl. GST

Product ID: BOMAR-410.280-DGH

$

17,500.00 Excl. GST

$

19,250.00 Incl. GST

$

915.00 Excl. GST

$

1,006.50 Incl. GST

Product ID: PHM-105-PB

$

915.00 Excl. GST

$

1,006.50 Incl. GST

$

18,645.00 Excl. GST

$

20,509.50 Incl. GST

Product ID: BOMAR410.260

$

18,645.00 Excl. GST

$

20,509.50 Incl. GST

Product ID: BOMAR-620-460DGH

$

6,480.00 Excl. GST

$

7,128.00 Incl. GST

Product ID: MG-285-BANDSAW

$

6,480.00 Excl. GST

$

7,128.00 Incl. GST

$

69,500.00 Excl. GST

$

76,450.00 Incl. GST

Product ID: BOMAR-E290-258 DGANC

$

69,500.00 Excl. GST

$

76,450.00 Incl. GST
Description
Bomar 290.258 DGA CNC Automatic Double Mitre Cutting Bandsaw Fully Automatic Bandsaw
A fully automatic band saw for double-sided mitre cuts with automatic arm positioning. Material down feed and clamping bow feed are controlled hydraulically.
The work cycle is completed after the programmed length and cutting angles and quantity of pieces have been programmed.
The SIEMENS controller unit is equipped with a large screen display.
The programming is performed in simple steps, thanks to the large graphic display the programming of cutting jobs is easy for the operator. Up to 60 programs may be saved and recalled as required.
Manual or Fully Automatic modes can be accessed easily.
The robust saw bow is manufactured from a special alloy of cast-iron, which absorbs vibration during the cutting cycle. The outstanding cutting efficiency of this machine results from the following features:
Precision carbide blade guides saw hinge with preloaded conical bearings, synchronous running brush cutting chip removal.
The feed system has been built using linear sideways for fast smooth operation.
The moving feed vice opens to in both directions, eliminating drag or collisions with bent or uneven materials. A feed roller table ensures safe straightforward feeding of short materials. The mitre angles are set electromechanically from -45° to 60° within approx. 3 sec.
Automatic material shape detection allows the saw arm to move with the maximum speed close above the material, which significantly shortens the cycle time.
Standard equipment includes automatic down feed pressure regulation, dependent on the resistance of the processed material. Electonic blade speed control allowing the optimal speed rotation to be set from 20–120 m/min. This significantly increases both the saw band lifetime and the machine's productivity.
This machine is ideal for saving labour time when double-sided mitre cutting and precision is required.
Standard design of the machine ERGONOMIC 290.258 DGA
Full hydraulic control.
Robust cast iron saw bow
Smooth electro-mechanical angle adjustment in the range -45° up to +60° in 3 sec.
Exact adjustment of cutting angles +/- 0,1°
Feeding length per feed hitch 1500 mm
Carbide blade guides
Automatic cutting force pressure regulation for tube and structural materials
Electronic control of saw band's tension
Easy removal of cutting swarf
Powerful and reliable saw band drive motor
Machine design in accordance with the applicable CE standards and safety regulations
Cutting parameters
| | | | |
| --- | --- | --- | --- |
| Angle | Round Tube | Square Tube Height | Square Tube |
| 90°/0° | 258mm | 300 x 200 mm | 250mm |
| 45°R | 195mm | 130 x 100 mm | 195mm |
| 45°L | 200mm | 190 x 130 mm | 200mm |
| 60°R | 135mm | 130 x 95 mm | 95mm |
Technical specification
| | |
| --- | --- |
| Working mode | Automatic |
| Machine type | Horizontal bandsaw |
| Cut | Mitre cut |
| Mitre cuts range | -45°- 60° |
| Drive | 1,5 kW, 3 x 400 V/50 Hz |
| Saw band speed | 20 – 120 m/min. |
| Saw band dimensions | 2 910 x 27 x 0,9 mm |
| Material loading height | 755 mm |
| Shortest remainder length | 280 mm (0°cutting angle) |
Optional Material Loader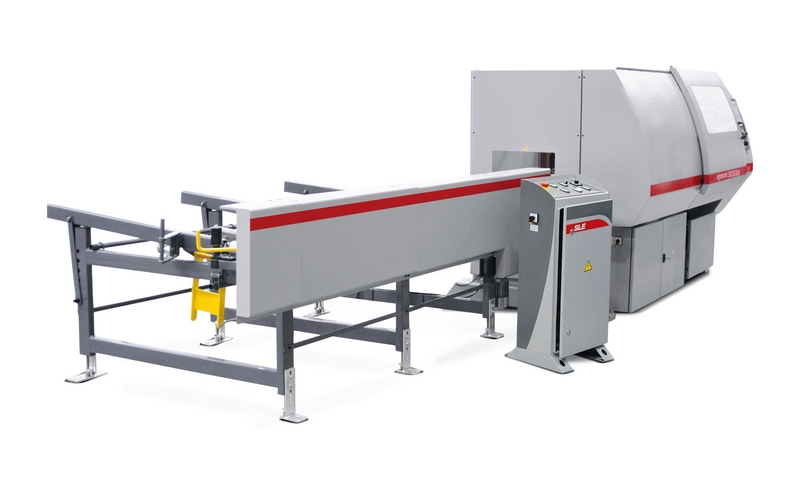 Additional information
Additional information
| | |
| --- | --- |
| Weight | 1500 kg |
| Dimensions | 290 × 185 × 165 cm |
Reviews
Frequently Bought Together
Product ID: STANDARD-CONVEY-STAND417MM

$

179.00 Excl. GST

$

196.90 Incl. GST

Product ID: EDGE-EXTNDR-OIL-20L

$

179.00 Excl. GST

$

196.90 Incl. GST

$

60.50 Excl. GST

$

66.55 Incl. GST

Product ID: 27MM-BI-MM-BOMAR-290-258DGA

$

60.50 Excl. GST

$

66.55 Incl. GST