Roll over image to zoom in
Click to open expanded view
ICARO CP38/45 Combined Rebar Cutter And Bender
$

16,827.30 Excl. GST
$

18,510.03 Incl. GST
You may also like
$

17,794.80 Excl. GST

$

19,574.28 Incl. GST

Product ID: ICARO-CP-38-45-HP55

$

17,794.80 Excl. GST

$

19,574.28 Incl. GST
Description
Product Video Demo


For unmatched bending and cutting applications, the ICARO CP38/45 – Combined Rebar Cutter and Bender Machine presents a great addition to your workshop. Allowing the operator cut and bend rebar on the same machine in one location. Our Combined Rebar Cutter and Bending machines are guaranteed to produce quality results.
ICARO CP38/45 Combined Rebar Cutter And Bender Features
Manufactured in Italy using local European components
Bidirectional bending table for efficient bending in both directions.
Compact bar cutting station with adjustable bar support block and safety guard
User friendly design, fast and easy operation and control
Proprietary special purpose grease filled gearbox with laminated helical gearing
Multiple controller options available
All machines are bluetooth ready: allowing production diagnostics and equipment monitoring using the optional antenna module.
Compact design for workshops and onsite use
Safety guarded with interlock systems
Abides by CE standard European laws and global regulations ISO9001/2008
Replacement bending bushes and spare parts available in stock
Common Australian Bar Grades
Grade 250 – 250MPA = 25.5 Kg/mm2
Grade 300 – 300MPA = 30.6 Kg/mm2
Grade 500 – 500MPA = 51.0 Kg/mm2
MODEL
Motor Drive Kw
Cutting & Bending Capacity
Weight Kg
Machine Dimensions Cm
Bar Hardness 650MPA/65KGmm2
Bar Hardness 850MPA/85KGmm2
1 x Ø
2 x Ø
3 x Ø
1 x Ø
2 x Ø
3 x Ø
CP 24/28
1.85
Cut
20
14
10
18
10
6
280
68x72x83
Bend
24
16
12
22
14
10
CP 26/32
2.2
Cut
24
18
12
22
16
10
340
95x75x90
Bend
28
22
18
26
20
16
CP 30/35
3
Cut
26
20
16
22
18
14
450
85x110x85
Bend
30
24
18
28
22
16
CP 38/45
4
Cut
30
24
18
28
20
14
650
104x116x89
Bend
36
28
22
34
26
22
CP 50/54
5.5
Cut
40
28
18
34
26
15
1000
100x130x100
Bend
48
34
28
40
36
24
All the tests were carried out using iron bars coming from all over the world. The iron bars used are all followed the standards: DIN488, BS4449/2005, BS4449/97, ASTM/A706/A706M-00, ASTM (A615M-2000, UNE 36068, LNEC E450, NEN6008 (NL), NF A 35080-1, SD490 with different GRADE and toughness
Technical Specification

Weight Kg

650

Measurements cm

104 x 116 x 89

Motor (50 Hz) KW/HP

4/5, 5

Motor (60 Hz) KW/HP

4, 8/6, 5

RPM (50hz)

6

Grease KG

8

Working Disc ϴ

380
General Equipment

Standard

Optional

Foot pedal control

5 Step bending angle controller

Compact bar cutting station

5 Step Digital Angle programmable controller

Bluetooth ready module

Bluetooth antenna module

2 x Bending angle setting pins

Single phase supply 240vac Inverter

6 x Bending bushes & Pins

Extender Arm for large radius bending

Squaring arm & stop

Stirrup Bending Attachment with length stop

C.E Safety guard & limit switch

Spiralling forming attachment

Digital display voltage Indicator (60V-500V)

Linear length stop

4 x Cabinet castor wheels

Tool kit with hex keys
Standard Equipment
Standard Equipment Pins & Bushes
Bar Cutting Station
Foot Pedal Control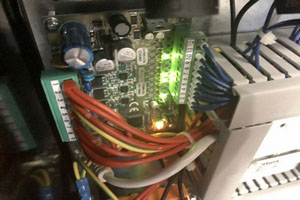 BlueTooth ready module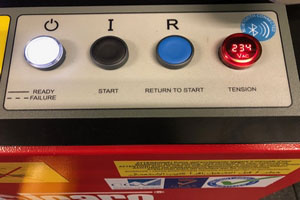 Supply voltage indicator (60V-500V)
C.E Front Protection
Optional Equipment
Spiralling forming attachment
Choice of optional controllers
Linear Length Stop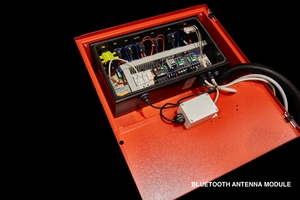 Bluetooth Antenna Module
Stirrup bending attachment
Extender Arm for large radius bending
Controller Options
Set bending angles by changing the limit switch striker pin
Bi-directional table rotation selector
Reference return switch Supply voltage Indicator
Set bending angle by changing the limit switch striker pin
Record 5 sequential bending angles
Bi-directional table rotation selector
Reference return switch Supply voltage Indicator
Set bending angles using digital keypad
Record 5 sequential bending angle programs
Select quantity / bending piece counter
Angular correction + / – Degrees
Programmable Bi-directional table rotation
Reference return switch
ALL ICARO BENDERS ARE DELIVERED BLUETOOTH-READY: simply purchase an antenna, which is extremely easy to install, and download a free software designed for both Apple and Android.
Each bender is fitted with our extremely innovative technology for Bluetooth diagnostics, that will let you check the conditions of your machine at every moment.
Additional information
Additional information
| | |
| --- | --- |
| Weight | 650 kg |
| Dimensions | 104 × 116 × 89 cm |
Reviews